Chemgo offers a complete service of classifying, packing, labeling and safe legal transportation, in accordance with CDG-CPL regulations and being an independent company, we can offer the most competitive prices.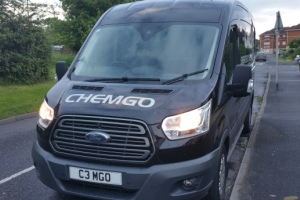 We will pack, label & remove all waste, provide all packing materials & paperwork, leaving you to carry on with your work.
We have over fifteen years experience handling hazardous products and are professionally qualified.
Should you require advice on the handling or storage of hazardous products will be happy to help.
We use a nationwide network of transfer stations so the majority of substances we dispose of are recycled helping to reduce your carbon footprint and protect our environment.
We also transfer goods from site to site and are particularly involved with helping the Building Schools for the Future project and the Private Finance Initiative.
Our emergency response vehicle is equipped with emergency spillage kits so we are allways ready to help in the event of an accident. We will contain the spillage, make it safe, pack and label it and then dispose of it.
Chemgo is centrally located with easy access to all the motorway networks making us the sensible logistic choice in solving your problem quickly.